The 3 Step Breast Check
Are you Breast Aware? Do you have a detailed look and feel once a month for any signs of change?
Self-breast examinations could increase the chances of early detection and diagnosis, and results have shown that such early detection leads to an increase in survival rates. You know your breasts better than anyone else so if you don't already check - now is the time to start. Early detection is the best prevention. Don't leave it until it's too late.
"Forty percent of diagnosed breast cancers are detected by women who feel a lump, so establishing a regular self breast examination is very important." says Dr Cindy Mak, Director of Breast Services at Chris O'Brien Lifehouse
While mammograms can help you to detect cancer before you can feel a lump, self breast examinations help you to be familiar with how your breasts look and feel so you can alert your healthcare professional if there are any changes.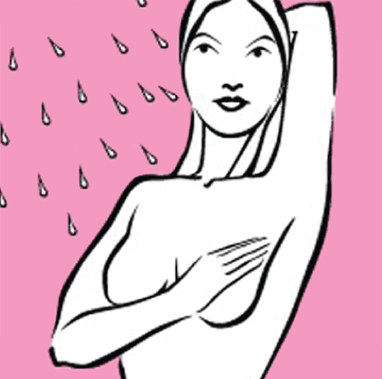 Put your left hand behind your head. With the sensitive pads on your right fingers, use small circular movements to examine your left breast for anything unusual. At first feel lightly, checking for anything near the surface. Then press quite firmly, feeling for anything deeper. Continue around the breast, checking all areas. Also examine above your breast, up to the collarbone and out to the armpit. Then do the same for the right side.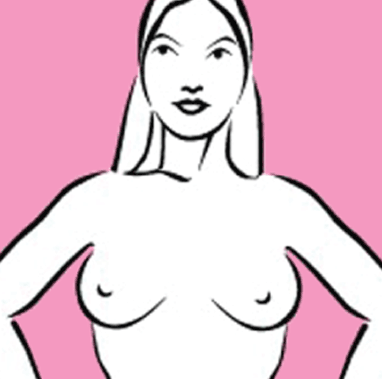 After showering, place your hands at your sides and check your breasts in the mirror. Look for anything that is not normal for your breasts - changes in color, size or shape, any dimpling of the skin or "pulling in" of the nipple. Put your hands on your hips and push your shoulders forward to flex your chest muscles. Finally, raise your hands above your head and check for any changes.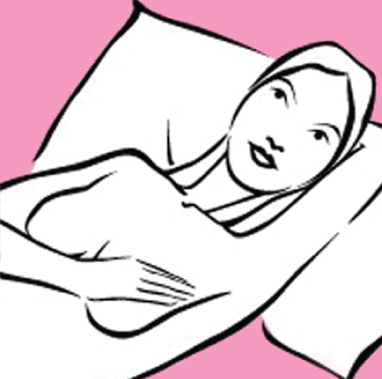 Lie on your left side with your knees bent, roll your shoulders back so they are flat on the bed. Place your right arm under your head. Your breast should now be as flat as possible. Examine your right breast using the methods outlined in Step 1. Reverse procedure to check other breast.
If you do find something, or notice any changes in your breasts, see your GP immediately. Self-examination should be done in addition to, and not as a substitute for yearly breast examinations by your GP, and screening mammograms every two years (these are available free of charge through BreastScreen NSW by calling 13 20 50). It's important to remember that the vast majority of breast changes aren't cancer, but visit your GP as soon as possible anyway to see if further testing is needed.
The
3 Step Breast Check Shower Card
explains how to check your breasts in 3 easy steps.
It is designed to hang in your shower as a reminder to be BREAST AWARE.
The
3 Step Breast Check Shower Card
is available
free of charge from SBCF
.